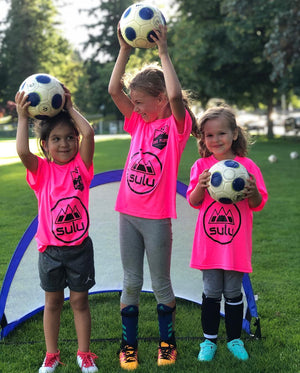 She Kicks Tuesdays (Vancouver) May 9th - June 13th 2023
Sale price Price $175.00 Regular price $199.00
 📣 Calling all soccer-loving girls ages 5-10 years old! She Plays Soccer is thrilled to announce "SHE KICKS TUESDAYS," a FREE 4-week soccer program led by female coaches at Memorial Park Turf.


🗓️ When: May 9th - June 13th 2023
🕔 Time: 5:00pm-6:00pm
📍 Where: Memorial South Park Turf

At SHE KICKS TUESDAYS, you'll get to:
👟 Improve your soccer skills through training and games
🏃‍♀️ Develop foundational body mechanics and physical literacy
🤸‍♀️ Engage in plyometric exercises to boost your athletic abilities
🙋‍♀️ Receive mentorship from experienced coaches and players

Don't miss out on this amazing opportunity to hone your soccer skills and make new friends! Spots are limited, so register now! See you on the field! ⚽️👧
CLICK HERE TO REGISTER FOR SHE KICKS TUESDAYS!